The Faculty of Social Welfare and Psychology educates students to contribute to improving people's quality of life, providing highly specialized knowledge and social welfare and psychology skills. The department also nurtures specialists with international thinking.
Department of Social Welfare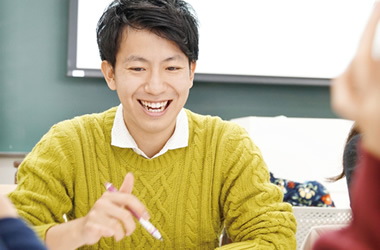 This department educates social welfare specialists who can handle the problems society is facing by working on the front lines, providing welfare and inter-personal support in local communities.
Characteristic 1 Using highly-specialized knowledge, students can acquire deep insight into people, a multilateral viewpoint and problem-solving abilities.
In order to nurture deep insight into people and a multilateral perspective of local communities and the global society, this department develops studies focusing on three specialties: Social Worker Course, Care Worker Course and Child Development Course. Students gain a clear theoretical understanding, survey problems and find solutions. Through small group studies from the beginning, students acquire knowledge and cultivate the ability to face problems with their knowledge and trust in others.
Characteristic 2 Teaching staff with diverse backgrounds deepen and broaden the students' education.
By interaction with students studying in other courses through exchanges between seminars and volunteer activities, students discover differences according to different perspectives and further investigate with an integrated perspective. The teaching staff supports the students in their all-round studies with their specialized expertise. In this department, the teaching staff, together with the students, give back to local communities, using the achievements of their educational research through local activities.
Characteristic 3 We help students to prepare for obtaining licenses, focusing on national licenses.
In this department, students can choose one subject from either psychiatric social work, nursing care for the aged or childcare work, combine it with their main social welfare work, and acquire licenses according to their future career plans. We provide substantial support for passing the national examinations.
Licenses
Social worker (Entitled to take the national examination)
Psychiatric social worker (Entitled to take the national examination)
Nursing care worker for the aged
Child-care worker
Certified psychologist
MSW (Medical Social Worker) ※ This is not a national license.
Department of Clinical Psychology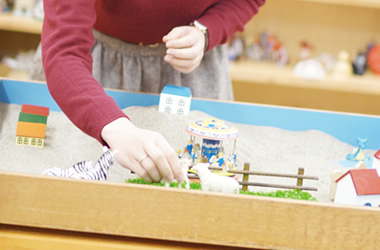 This department shoulders the basic education stage for highly educated professionals such as clinical psychologists and prepares professionals with a clinical psychology perspective in a wide range of fields.
Characteristic 1 We are now offering even higher expertise through education in our new Department of Clinical Psychology.
By moving the previous Psychological Counseling Course from the Department of Social Welfare and Psychology to the Department of Clinical Psychology, students can now receive an education with even higher expertise. The number of specialized subjects in psychology has increased to 50 percent higher than in the Psychological Counseling Course. Students can now study psychology with even more depth as well as acquiring a clinical psychological approach from an early stage of their education.
Characteristic 2 Students acquire coherent and practical skills that will be useful in many fields.
In this department, students study psychology step by step; they are nurtured to view the world around them objectively. Through practical exercises in small groups, they acquire clinical psychology skills that are immediately useful in society. For students studying to become clinical psychologists, and for students who wish to work immediately after graduation, their opportunities expand in a wide variety of fields including medical care, education, welfare and industry.
Characteristic 3 We have strengthened our ties with the Graduate School of Clinical Psychology of our graduate school.
In this department, the teaching staff from the Clinical Psychology Research Program in our graduate school hold concurrent posts, enhancing the basic psychology education both in quality and quantity. Studying for 6 years from undergraduate enrollment to graduation from graduate school, is now possible. Students studying to become clinical psychologists can do research with international publications in their specialties and study the basics of psychology step by step, preparing to pursue a master's degree in graduate school.
Licenses
Social worker (Entitled to take the national examination)
Certified psychologist