Liberal Studies Course in Department of Liberal Studies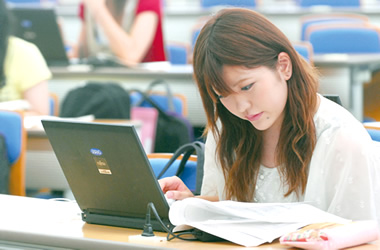 This program offers a wide variety of subjects and enables students to select those they are interested in or would like to utilize to obtain licenses for their future endeavors. The program also provides students with courses for careers in areas such as business and accounting practice, fashion and interior design, food business, tourism and weddings, and English communication and preparation for transferring to 4-year universities. Students can choose subjects according to their interests and are given ample guidance by their advisers and lecturers, leading them to learn systematically about their specified academic fields, while at the same time affording them the opportunity to study the areas directly connected to their dreams.
In addition the required general education courses at Seiryo have been enhanced in order to give our graduates a very well-rounded education.
5 Courses
Although students elect to study one course area, they are welcome to take classes from other areas.
This enables students to pursue interests in a wider field and allows them to keep their career path options open.
Business and accounting practice

Contributes to the future of the local community, providing viewpoints and knowledge that are useful in all situations.

Fashion and interior

Teaches communication with art to create the future

Food business

Shapes society with food and vitalizes the local community

Tourism and weddings

Invites people to the local area and brings smiles

English communication and preparing to transfer to university

Supports society with a sense of values and communication abilities.
Licenses
Licenses approved by completing specified subjects
Textile Advisor (2nd grade)
Food Specialist
Food Coordinator (3rd grade)
Business Practitioner
Recreation Instructor
Social Welfare Officer License
Sightseeing Business Practitioner
Licenses students can acquire by passing examinations administered at university and in other locations
Fashion Sales Skill Test (3rd grade)
Fashion Business Skill Test (3rd grade)
Color Coordinator (3rd grade)
Color Skill Test (3rd grade)
Retail Marketing Test (3rd grade)
Business Ability Test (2nd and 3rd grades)
Bookkeeping (2nd and 3rd grades)
Secretary Skill Test (Pre-1st, 2nd and 3rd grades)
Business Writing Skill Test (2nd and 3rd grades)
Microsoft Office Specialist
Certify Software Skills Qualification Test
TOEIC/TOEIC Bridge
Test in Practical English Proficiency (2nd and pre-2nd grades)
Domestic Travel Geography Test / Overseas Travel Geography Test (2nd, 3rd and 4th grades)
Domestic Travel Service Supervisor / General Travel Service Supervisor
Welfare Living Environment Coordinator Test (2nd and 3rd grades)
Assistant Bridal Coordinator
Training Course for Newly Employed Nursing Personnel for the Aged
Medical Office Work
Care and Welfare Course in Department of Liberal Studies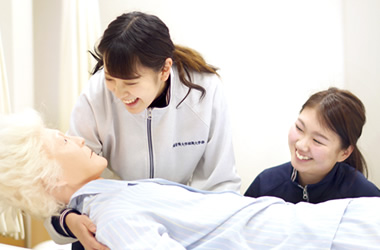 This program enables students to acquire knowledge and skills concerning nursing for the aged and to become 'nursing specialists' who can assist the aged and disabled in a truly caring manner. Students learn the theories and skills which are the basics of social welfare and nursing care for the aged, and are trained to acquire those skills while learning to understand the feelings and needs of those in their care. By proactive studies, students acquire accurate judgement and problem solving skills that are necessary at nursing sites. Upon completion of this 2-year program students will be ready for the national examinations for nursing care workers for the aged, and will feel well prepared to begin careers at nursing facilities for seniors.
Licenses
Nursing care worker for the aged
Social welfare officer, etc.