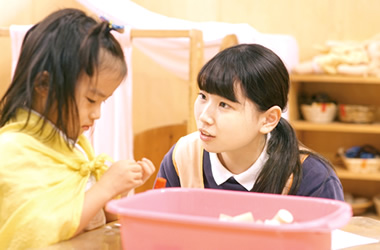 Seiryo's Early Childhood Education program is steeped in the spirit of respecting children's human rights and focuses on educating childcare workers who can creatively practice childcare that meets the challenges of our ever changing society. We have prepared a curriculum that combines lectures for acquiring special knowledge about early childhood education and childcare, and practical techniques to ensure the highest level of caring. Our curriculum is designed to foster practitioners of excellent caliber who will go on to play active roles in kindergartens, nursery schools and welfare facilities. For over half a century the achievements of our Department have been highly regarded in Niigata Prefecture and our graduates have successfully found job placements in facilities throughout the prefecture.
Licenses
Kindergarten Teacher's license (Class 2)
Child-care worker
Social welfare officer, etc.